Drive, Inspired - Moxie GT Gait Trainer, GT1000-2G & GT2000-2G & GT3000-2G
SKU
GT1000-2G, GT2000-2G, GT3000-2G
TheMoxie GT Gait Trainer by Drive Medical offers a tremendous amount of versatility to aid children or adults with stability while they improve their walking ability. The Moxie GT is a height adjustable gait trainer available in 3 different sizes. The Moxie GT can be used in either a posterior or anterior position. All Moxie accessories install and adjust without tools. The small and medium Moxie GT are available in either green or blue frame colors. The large size is available in a grey frame color.
Moxie GT Gait Trainer features:
Height adjustable in 1" increments
Accessories mount tool free and can be adjusted according to the user's needs
Can be used in anterior or posterior position
Medium and Large frames fold for easier transportation
Swivel casters can be locked in non-swivel position
Directional lever allows for both forward and reverse mobility, or forward mobility only
Wheel locks on all 4 casters to keep gait trainer stationary during transfers
Small and Medium sizes available in blue and green
Large size available in grey
Warranty: Limited Lifetime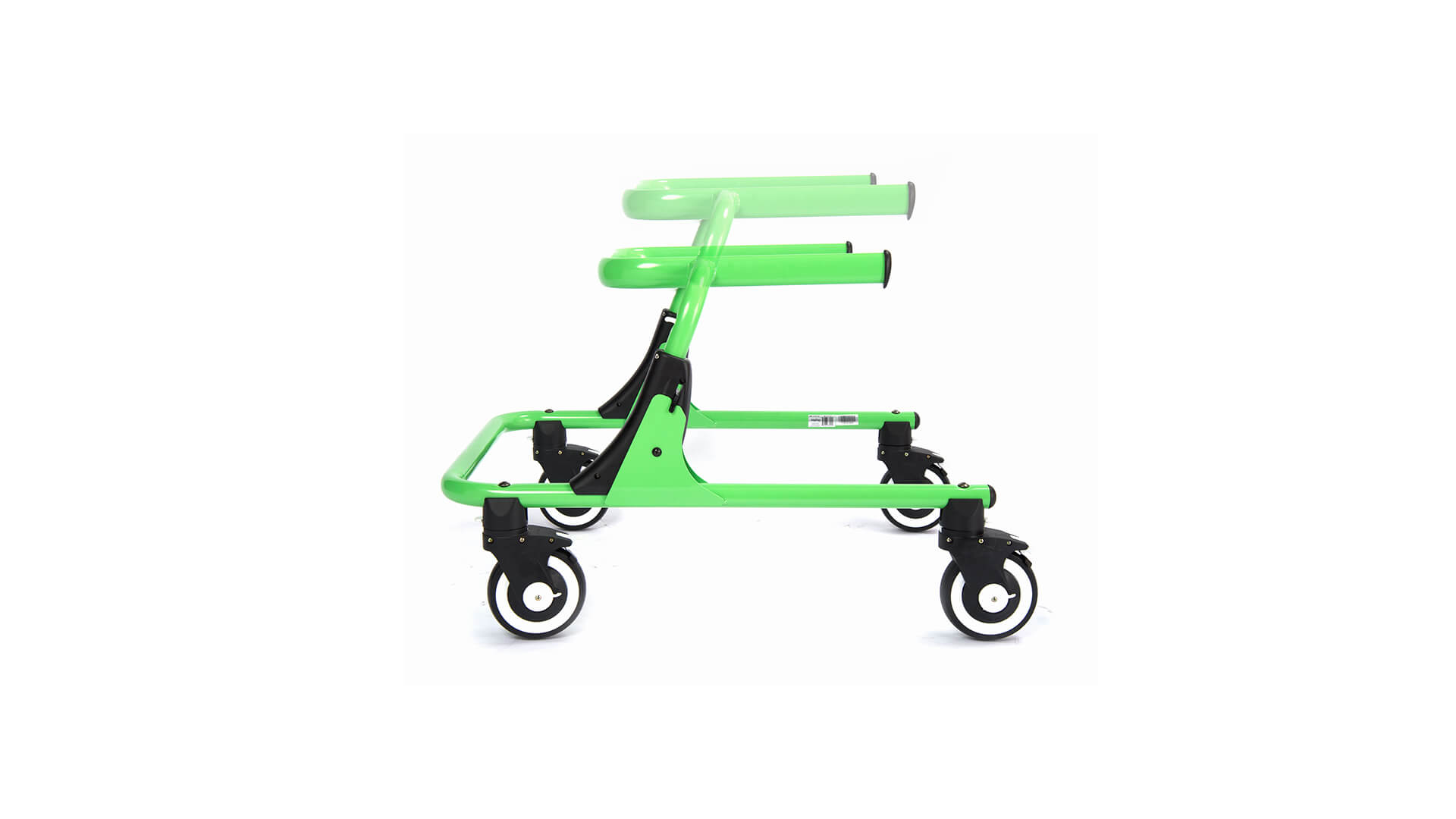 Height Adjustable
Height can be adjusted in 1″ increments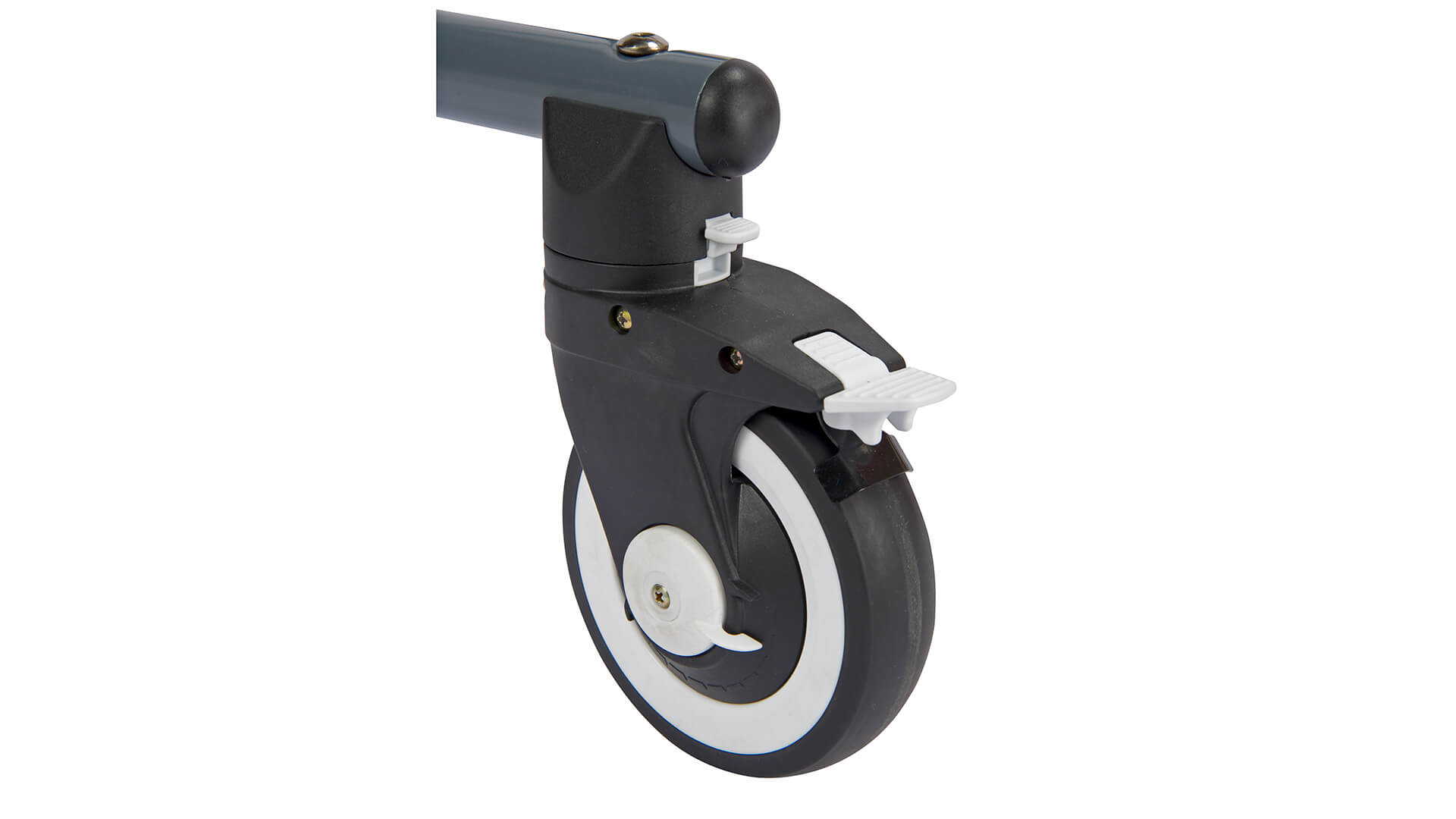 Four Function Casters
Incorporate wheel locks, swivel locks, one directional control, and adjustable drag control
Anterior or Posterior Position
Can be set-up to best fit the needs of the user
Specifications:
| | Handle Height | Weight Capacity | Width Inside Handles | Outside Dimensions (at base) | Product Weight |
| --- | --- | --- | --- | --- | --- |
| Small | 15" - 18.5" | 75 lbs. | 12.5" | 23" (W) x 33" (L) | 22 lbs. |
| Medium | 22" - 25.5" | 150 lbs. | 16.5" | 26.5" (W) x 33" (L) | 26 lbs. |
| Large | 29" - 39" | 200 lbs. | 18" | 28" (W) x 38" (L) | 32 lbs. |
Accessories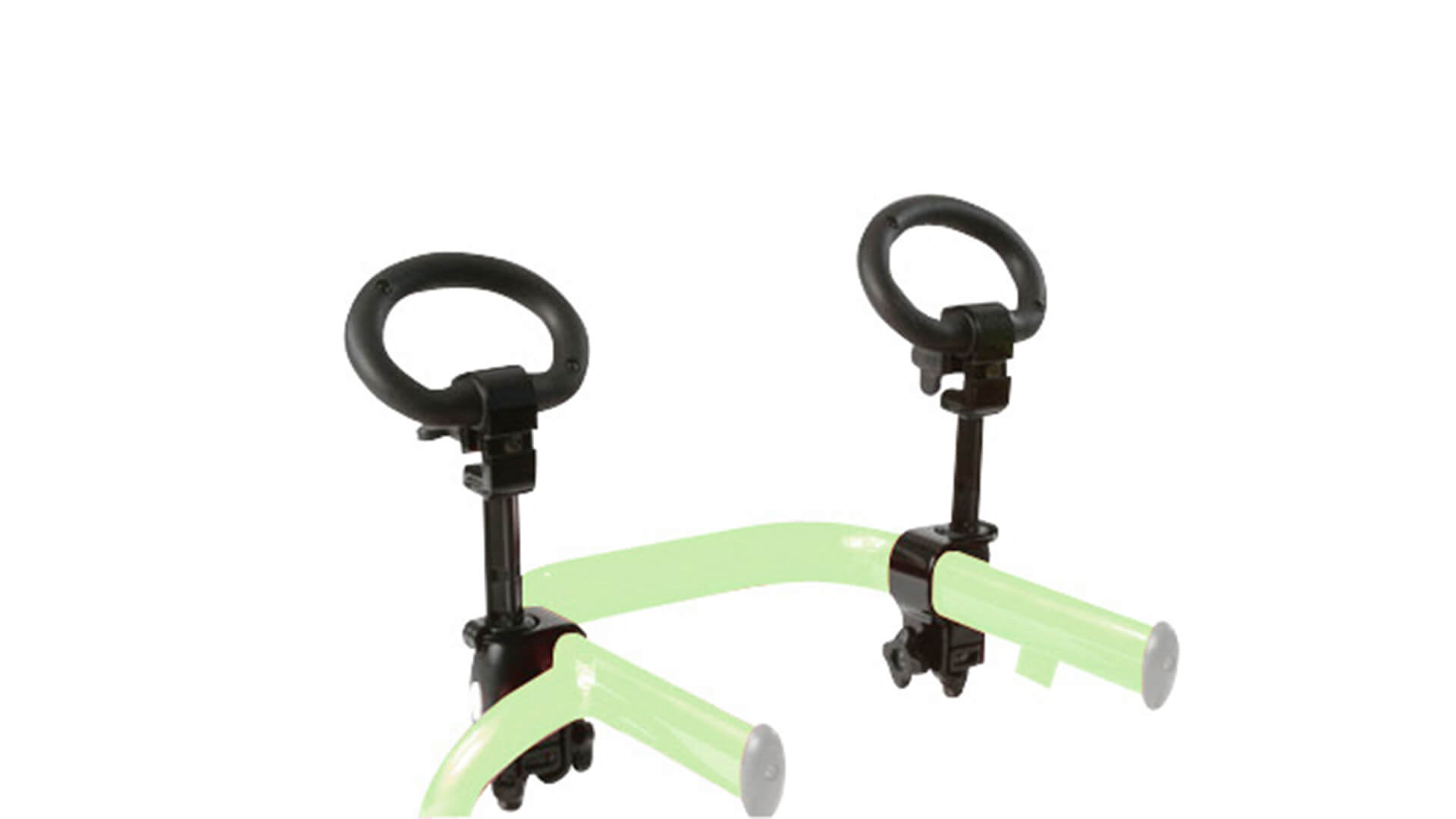 Hand Loop
TK 1010
Can be used as a pair or single, provides stability, tool-free mounting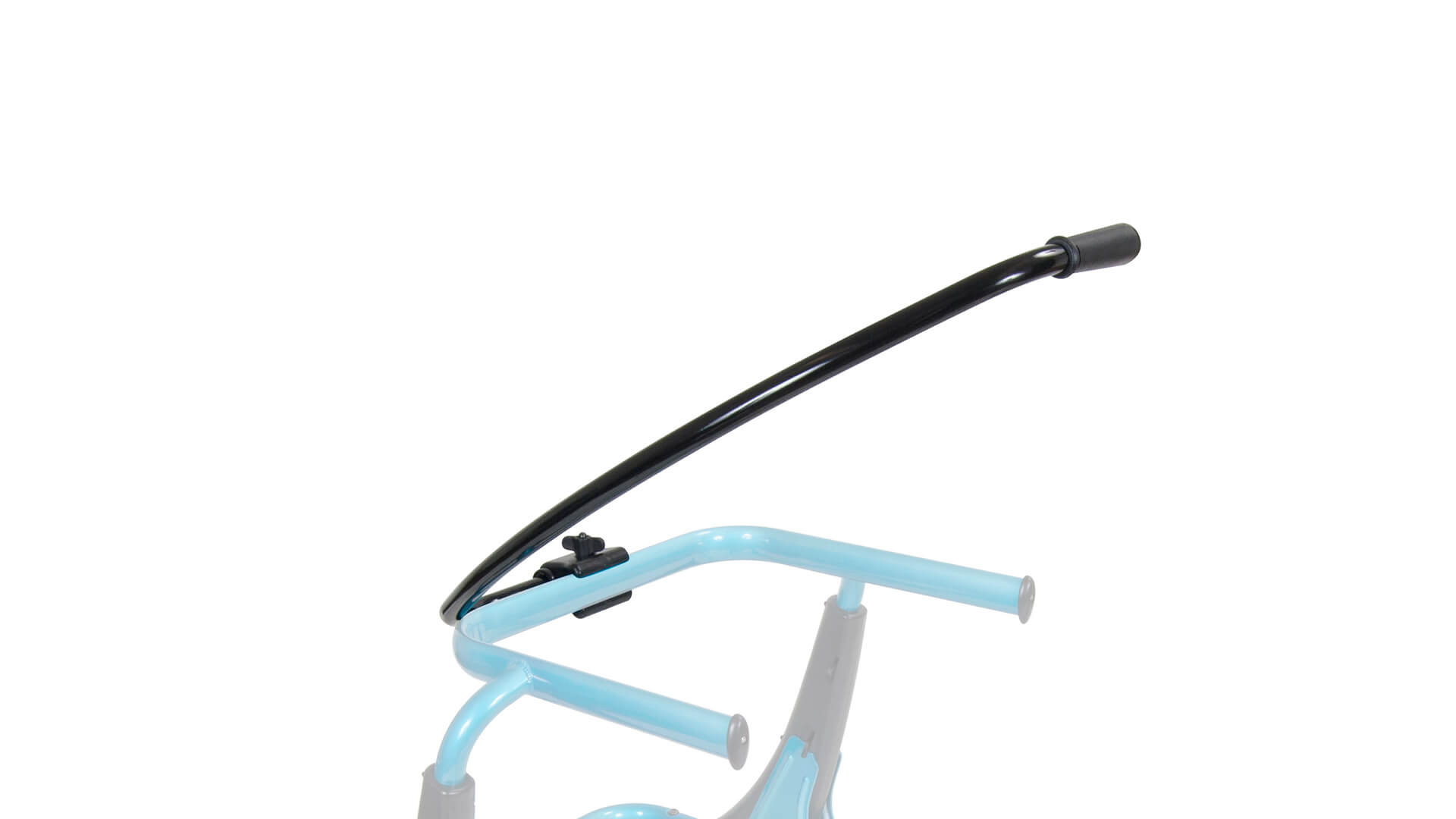 Guide Bar
TK 1020
Allows caregiver or therapist to assist in gait training, rotates 180°.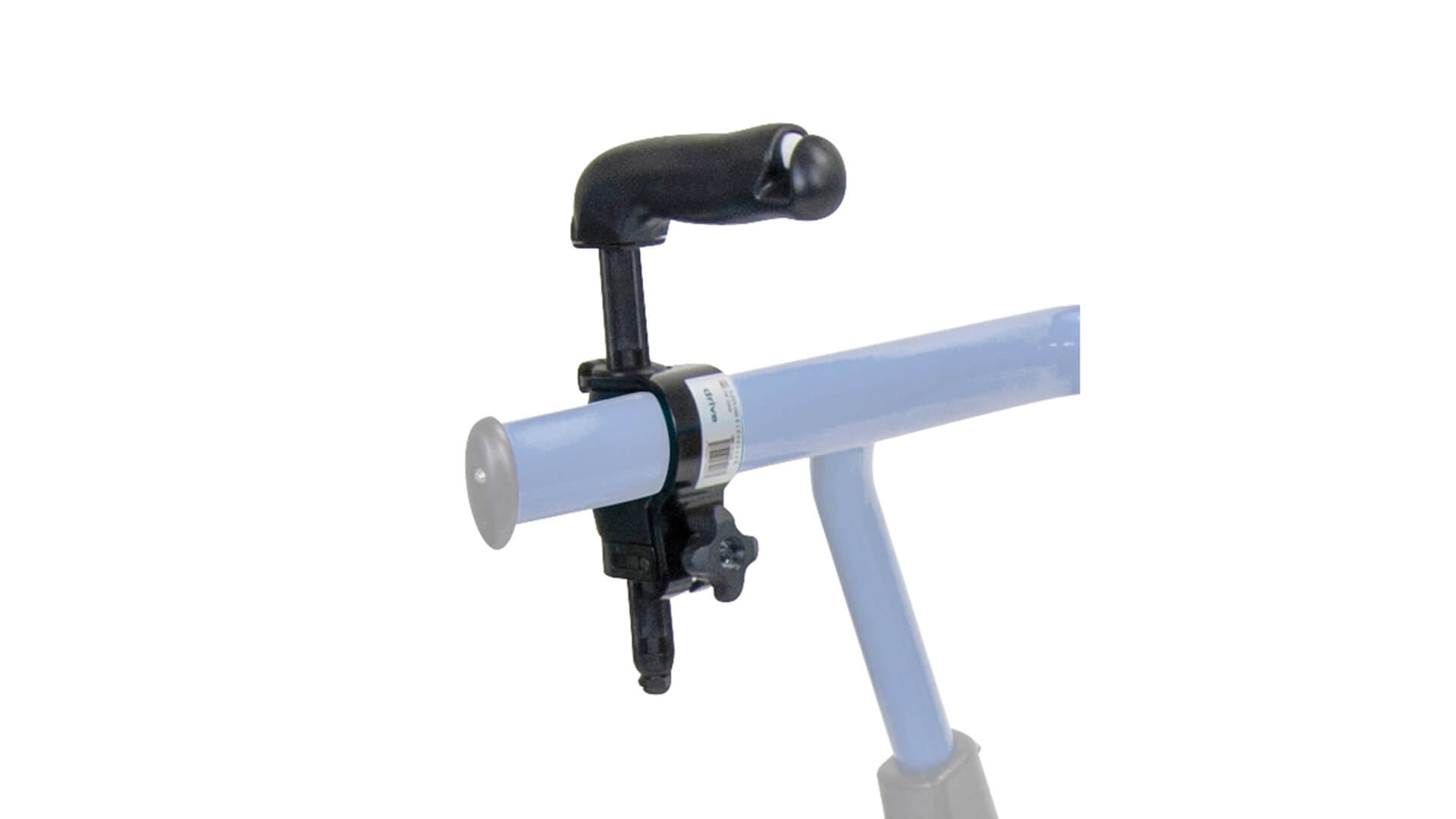 Handgrips
TK 1045
Height adjustable and can be mounted in a variety of positions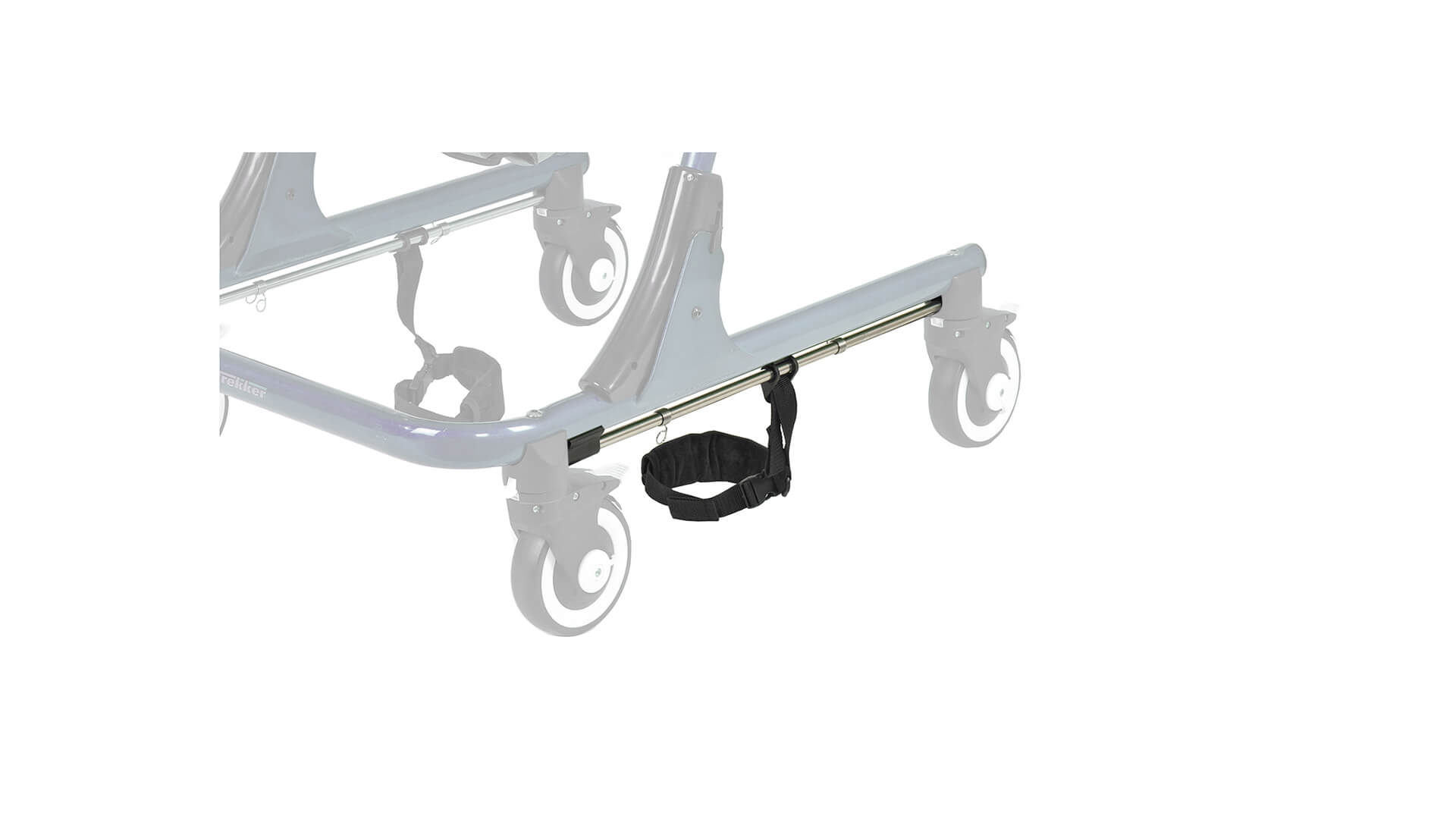 Ankle Prompts
GT1060 S/M/L
Prevents scissoring of legs; Ideal for users with spasticity, poor motor control, ataxia and excessive adduction.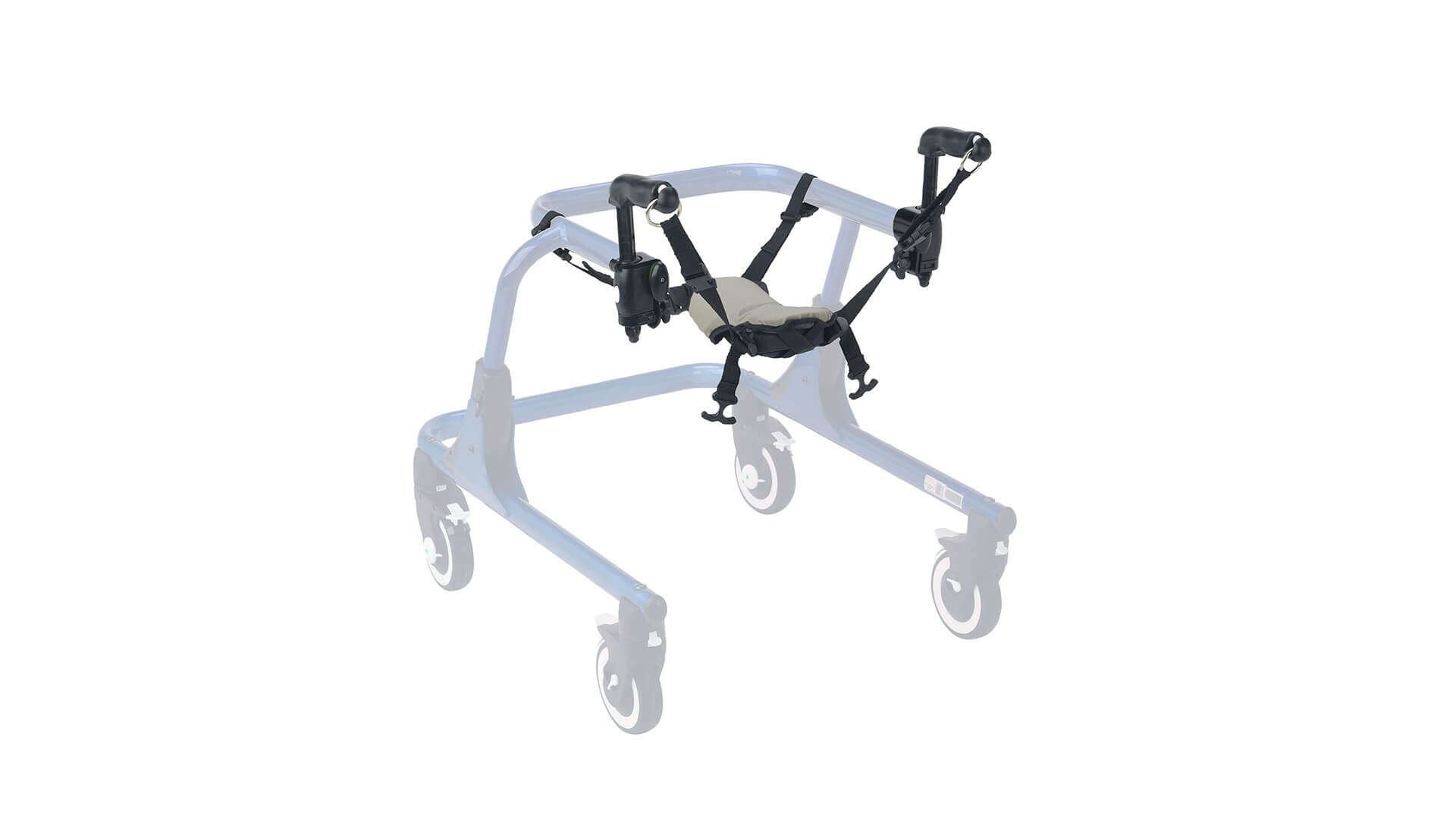 Hip Positioner
TK 1070 S/L
Positions hip for proper positioning; straps are adjustable, padded for comfort and removable
Seat Harness
CE 1070S/L
Properly positions pelvis and moves with the natural gait pattern of the user. Harness is adjustable.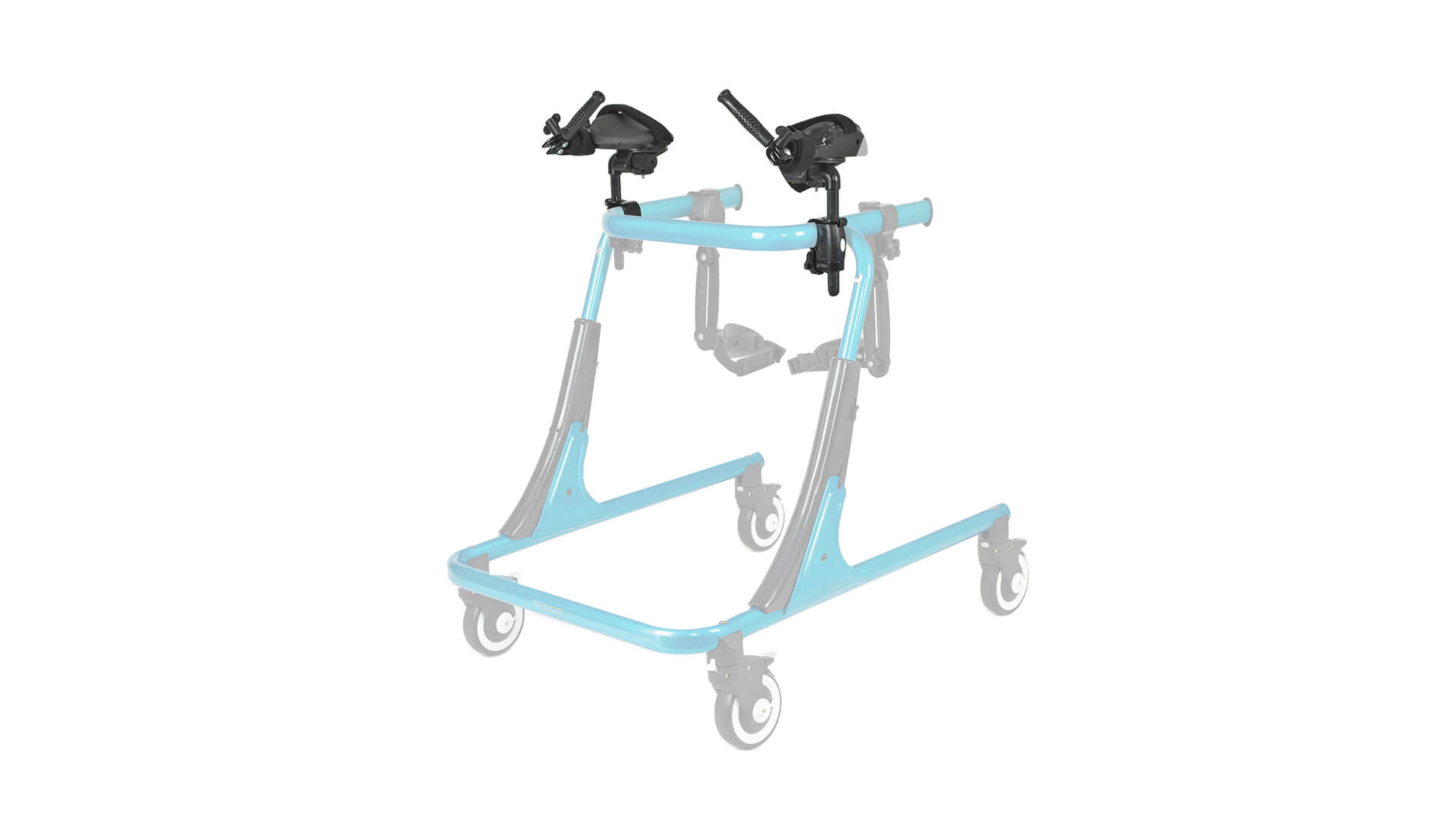 Forearm Platform
TK 1035 S/L
Highly adjustable for proper arm support. Height, depth and angle adjustable.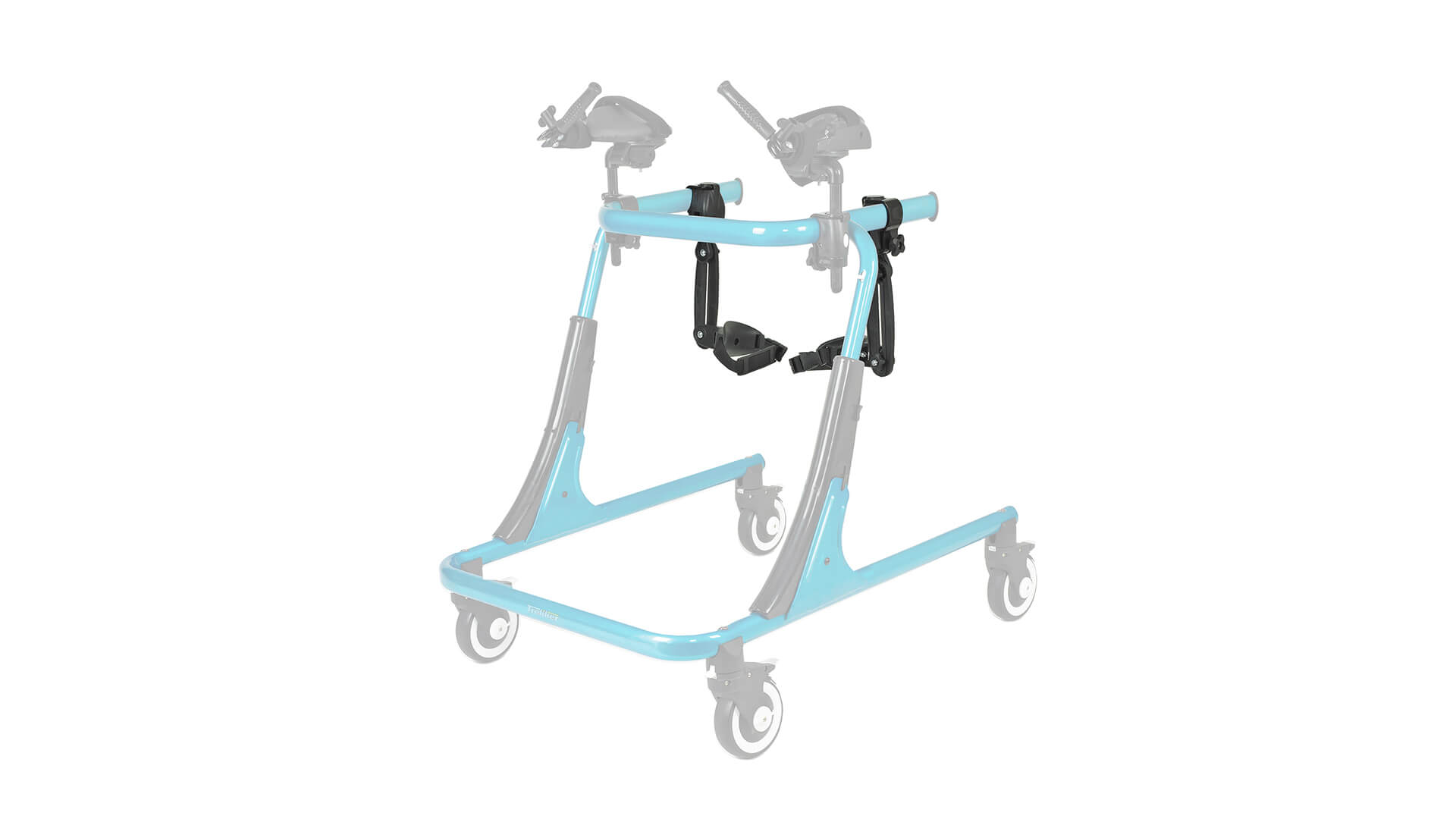 Thigh Prompt
TK 1090 S/L
Limits abduction/adduction; moves with natural gait pattern. Height adjustable.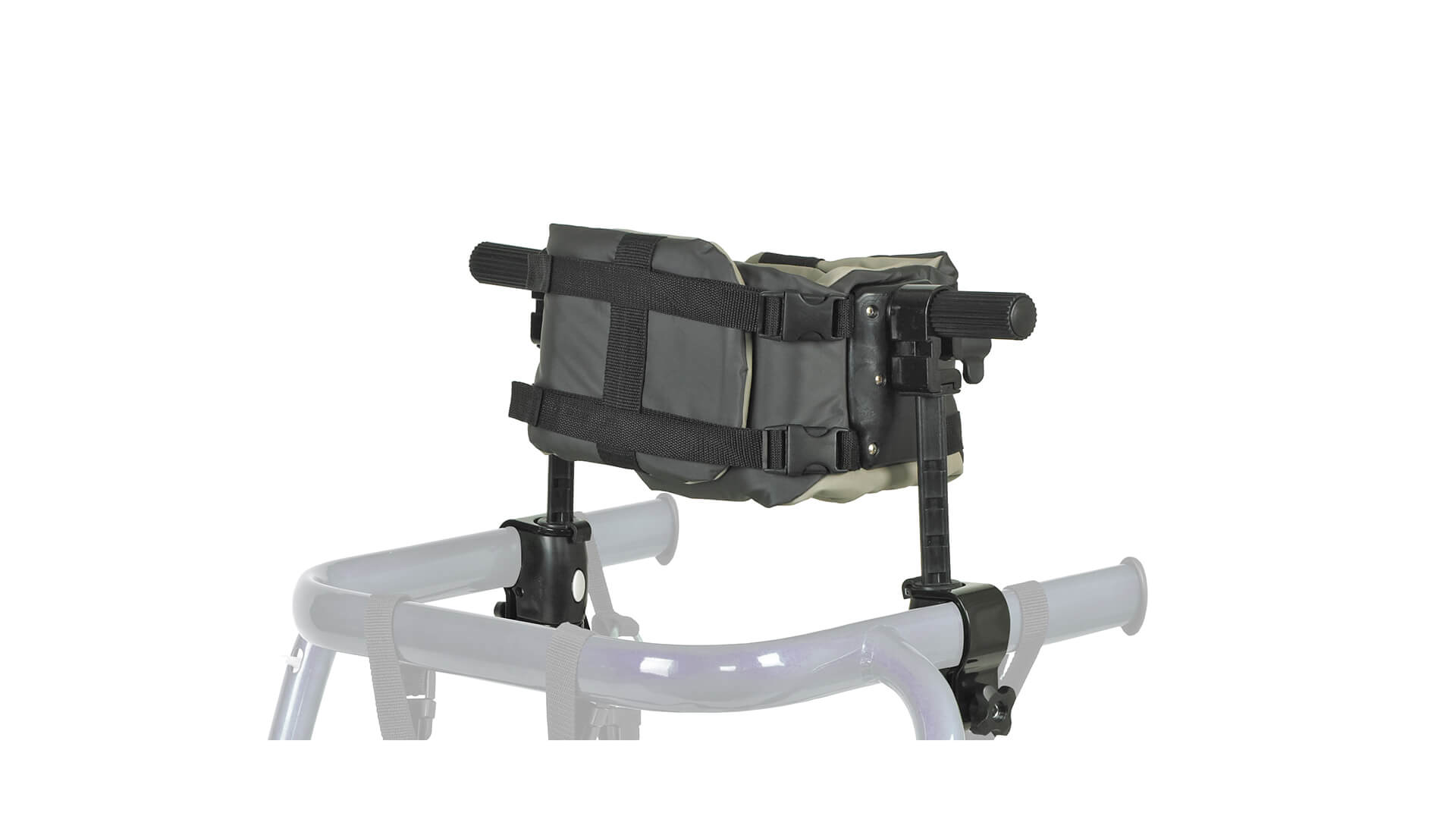 Trunk Support
TK 1080 S/M/L
Cushioned support to align trunk or pelvis; height, depth and angle adjustable. Opens for easier transfers.
More Information

| | |
| --- | --- |
| Manufacturer | Inspired By Drive |